'Samuel and the Monster' is available to buy. Buy one for you and your favourite 2-5 year olds to enjoy together!
'Samuel and the Monster' is a short, simple story with brightly coloured, bold illustrations that overnight put a stop to my four year old son Samuel's nightmares and broken nights.
Samuel has a Monster in his room, and no amount of ignoring it is making it go away. One night, filled with new resolve, Samuel decides enough is enough! Through strength of conviction and repeatedly shouting 'there are no monsters,' Samuel shrinks the Monster, ridding himself if it once and for all.
As any family with young children will know, broken sleep can have a dreadful impact on the whole family, with statistics showing that up to half of children between the ages of 3 to 6 are estimated to suffer from nightmares resulting in disturbed sleep for them and their parents.
I am confident that if your little ones are experiencing nightmares or monster dreams that are causing broken sleep, that reading through 'Samuel and the Monster', standing strong and following the actions suggested by the story will help them to overcome their night fears.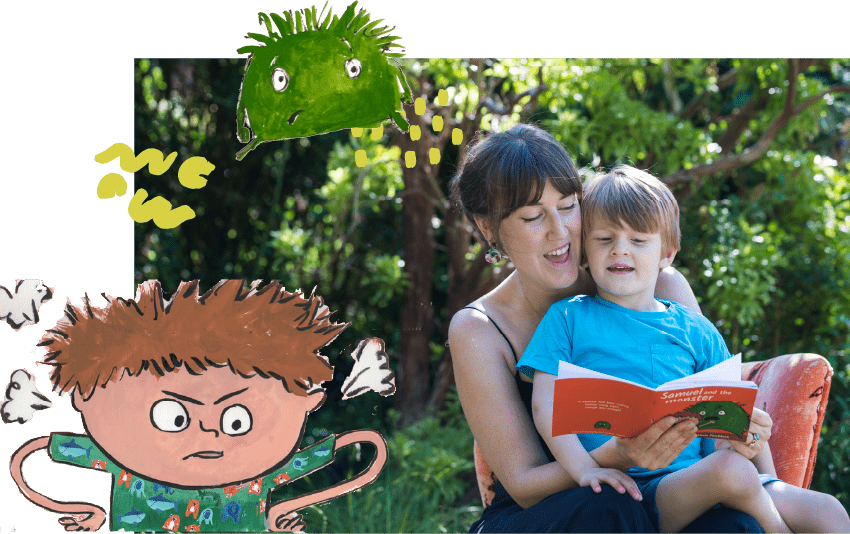 The Back Story
We had been experiencing over six months of broken nights, with Samuel waking up screaming with terrible night terrors sometimes up to twenty times a night. With a newborn baby as well, all of us were exhausted.
One night, after the third wake-up at 2am, I decided to try a completely different tack: asking Samuel to get out of bed, stand up straight and tall and yell with conviction 'There are no monsters!!!' Slightly bemused at his mother's mad antics, Samuel did as told, shouting the phrase until finally he was asked to state 'I am Samuel and I am AMAZING!'
At this point, happy and in a relaxed state again, Samuel went straight back to sleep.
Meanwhile, rather than reclaiming my calm night's sleep, I went to my desk and wrote and illustrated this short story between 2am and 6am with the aim of being able to read it to Samuel.
By the time he woke at 7am, I had a story and pictures to accompany it and I read it to him. He was thrilled! And, most importantly, he has slept through the night ever since.
Kind praise for 'Samuel and the monster'
"Fabulous book!! A huge hit and we had to read it twice! They both loved it!"

-Jen, mum to Hattie & Hughie
"Violet adores the book! We've been reading it often. We love the illustrations and the meaning behind the story."

-Lizzie, mum to Violet & George
"I think it's the best book we've ever read!"

-Maddox & Molly
"Love it! Xanthe and I just read it twice. Super duper book!"

-Hollie, mum of Xanthe & Trixie
"Wahoo! We loved it. So much we had to go right back to the beginning and read it again."

-Kiri, mum to Samuel & Benjamin
A bit about me: I live by the sea with my husband, four children (two boys and two girls, my stepdaughters), pug dog Raisin and our little french fire engine called Albert. I am passionate about everyone fulfilling their creative dreams, and about creating a future world filled with emotionally resilient human beings who are following their passions, starting from when they are SMALL!
Imagine a world where everyone is fulfilled and happy…
I have so many things which keep ME fulfilled and happy, some of these are: journalling, painting, cuddles, dancing - on my own, and with my husband and children - mermaiding (swimming that is less exercise, more flipping around), antics and belly laughs with my inspiring girlfriends, adventures small and big, cycling with the wind in my hair, picnic spreads and afternoon tea, parties, reading, learning and constantly challenging myself, dressing up, delicious healthy food and creating a world filled with GORGEOUS POPS OF COLOUR. Explore my full story here.